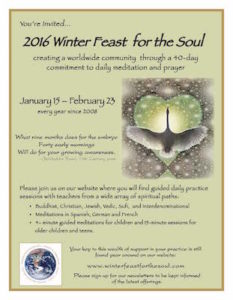 The Winter Feast is a 40-day period beginning each January 15 that allows people to have a free life changing experience with inner stillness. From stillness, loving kindness and compassion flow naturally into daily life. The organization was inspired by the words of the Persian poet Jelaluddin Rumi, who said "What nine months does for the embryo, forty early mornings will do for your growing awareness." Each year the teaching faculty changes, but has included leaders from Christianity, Judaism, Buddhism, Sufism, QiGong, and yogic and modern interdenominational traditions. We have also offered meditations in Spanish, French, German, Italian and Portuguese and these are archived on our site.
Winter Feast for the Soul ("Winter Feast") was founded in Idaho in 2008, and holds a vision of a world at peace that surpasses the imagined boundaries of creed, culture, and philosophical beliefs. Together with the annual Winter Feast program, there are age-appropriate meditations for children and teens and a Prison In-Reach program that teaches inmates in solitary confinement how to meditate. Their meditation archives are available online year-round. Winter Feast is a charitable organization run almost entirely by volunteers, and welcomes contributions of both time and money.
2016: A YEAR FOR GOING DEEPER
Please click on any of the teachers below to go to their meditation page that has links for this year and possibly prior years. A new format that some Teachers will be using this year will be to provide 10 meditations, each to be repeated for 3 additional days. This format encourages you to go deeper with each Day.